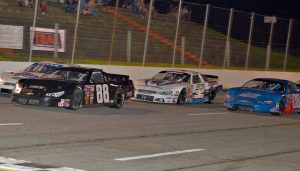 Mooresville, NC 10/12/17 – With competition at the track winding down for the 2017 season the Championship Auto Racing Series (CARS Tour) has announced a huge race to kick off the 2018 Late Model Stock (LMSC) season.  The opening race to be held at Tri-County Motor Speedway in Hudson, North Carolina will pay the winner of the event $10,000 as part of a record purse for the Late Model Stock portion of the series.
"This will be our fourth season running the Late Model Stocks and we have had their support from the beginning.  The consistent car counts at every event and the loyalty of the driver's year after year allows us to go all in for the 2018 late model stock season.  We look to make this a signature event by holding it early in the year and prior to the national and local point events beginning" said Jack McNelly, owner of the CARS Tour.
The Do The Dew 150 will be held at Tri-County Motor Speedway on the afternoon of March 10th as a daytime event.  The Hudson, North Carolina oval has been on the CARS Tour series schedule since its inception and has consistently provided the best racing the series has to offer starting in 2015 with a 100 lap event won by Brayton Haws that saw seven lead changes amongst four different drivers.  Just this season Garrett Campbell and Josh Berry dazzled the fans in attendance with racing that many dream to witness on a regular basis.
Continue reading 'CARS Tour Late Model Stocks to Kick Off 2018 Season Racing for $10,000 at Tri-County'